Writing my own bastardized versions of popular Christmas songs is usually something of an annual tradition for me.
Key word: usually. Sadly, due to a sudden apparent complete lack of creativity on my part, it doesn't look like that will be happening this year.
Or maybe 2016 was just so awful that even I'm having trouble making light of it.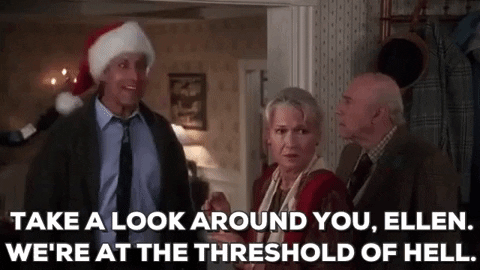 Happily, though, the internet is a thing, so at the very least I'm still able to enjoy and share the irreverent holiday mockeries of others.
Like the Wookiee-tastic version of Silent Night that I stumbled upon last night.
Wow, the walking carpet can carry a tune! Who knew?
But I've always been more of a Trekkie myself; specifically, a Next Generation Trekkie. And although being serenaded by Chewie definitely tickles my funny bone, I find this classic holiday offering featuring Captain Jean-Luc Picard & Co. far more…engage-ing.
#sorrynotsorry
What's your favorite carol crime? Pour yourself a glass of spiked eggnog (unless eggnog's not your thing, in which case MORE FOR ME, SUCKER) and post your most gigglesome holiday twisted tune selections in the comments so we can all have a much needed guffaw.
P.S. Pets in Santa hats also accepted.
P.P.S. Or GIFs of people slipping hilariously on ice.
P.P.P.S. Or whatever you want, really. I'm not picky, nor am I good at sticking to themes.
Save
Save
Save