Today is the summer solstice. The longest goddamn day of the year.
Maybe I'd be more inclined to enjoy that if I were lying in the sun on a pristine beach somewhere with a mai tai in one hand and a piña colada in the other – and two or three or ten more on the way, ideally served to me by Robert Downey Jr. – but I'm not. I'm stuck in a dreary grey office with dreary grey clouds outside the window and it's Monday and therefore everything is terrible.
So fuck summer. Let's have Christmas instead.

I'm serious. Let's do this.
In fact, I've already found us a tree. Oh yeah, I'm just that good. Can you believe this gem has been sitting in the alley since January and nobody's snapped it up? I think it'll do splendidly, assuming you don't mind your greenery not quite so green, and just a tad bit extra flammable.
Table decor won't be a problem either, because what should I discover on a street corner the other day but this adorable pair of North Pole regulars! (Okay, so they kind of look like they're not on speaking terms right now, but I'm sure we can sort that out; I mean, it's the most wonderful time of the year, right?)
Hm. You know what? I don't think one snowman is enough. June is always suffering from a deplorable lack of snowmen.
MOAR SNOWMEN!
Also maybe you can help me out here; I can't tell if the green blob in the lower right corner of that last photo is just a random ball of yarn or an attempt to craft a Grinch. Thoughts?
You know what? My pareidolia says it's the Grinch, so let's just go with that. There should always be a Grinch. Otherwise who will carve the roast beast?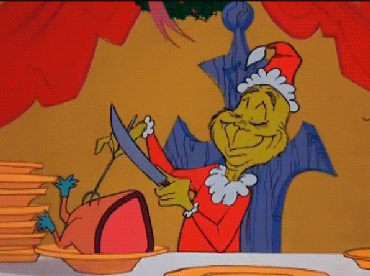 Last but not least, we'll need some kind of cheerful red and green banner proclaiming "Merry Christmas" in at least one language.
…wait, whaddaya mean no one has Christmas banners in stock? What the hell, retailers? You have the jingle balls to play carols in your stores before October's even punched in for work, but there's not a single goddamn mylar Happy Birthday Jesus banner to be found in June?
You disgust me. Priorities, people. Gawd.
Oh well, guess we'll just have to improvise.
Perfect.
Oh, shoot, almost forgot the turkey.
No need for any stuffing; he's already full of it.
A very merry Monday, joyeux June, and feliz Solstice to you all. Now where's my fucking drink, Robert?